Tom:
Well, it's finally happened. My partner in ovine crime for 15 years has flown the coop...er, the barn. Scott is now a college graduate, and he moved to Indiana last October. That means, for the first time since we resurrected the tradition, our Groundsheep Day cast this year is down to two: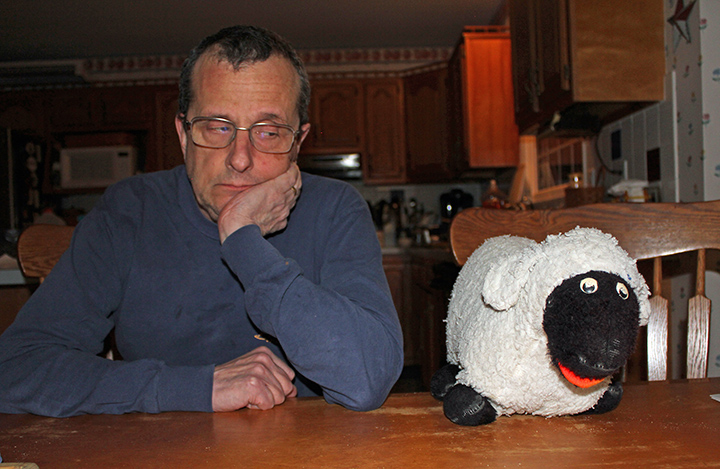 Shearson, of course, is up for any adventure, and he seemed excited to search for his shadow this year in the Hoosier State. Unfortunately, getting him there would be quite an adventure in itself. As you know, he's on the TSA's No-Fly List due to our past Groundsheep Day misadventures. He's also on the No-Drive List, the No-Sail List, the No-Ride List, the No-Carry List, and on top of all that he's classified as a hazardous material by the US Postal Service. Taking Shearson across state lines is a Federal offense. Taking him across international borders is a crime against humanity. NASA wants nothing to do with him either. Sigh....
There's only one thing left to do this winter: sit at home and do a jigsaw puzzle. Thus, for Groundsheep Day 2023, we present 99 Pieces of Shearson. Thanks to the fine folks at Jigsaw Planet, I've created an online jigsaw of the fabled groundsheep, outside on the lawn on a fine February 2nd. Put it together and you'll learn whether or not he saw his shadow. For the record, my best time to assemble it is 11:57 (without using the "ghost" cheat, by the way.) If you beat that, Collingswood will have an early spring. If not...ah, keep the snow shovel handy. Good luck!
Until next year,
Nick & Shearson (and Scott in absentia)

Photo credits this year go to Canon Cameras and their excellent self-timer feature.