Groundsheep Day 2008
Tom:
You didn't really think we'd forget Groundsheep Day, did you? Shearson wouldn't let us. He was up early, scratching at the front door to get out. Briefly, anyway. He solved the problem by just eating the door. Scott and I followed sleepily with the camera.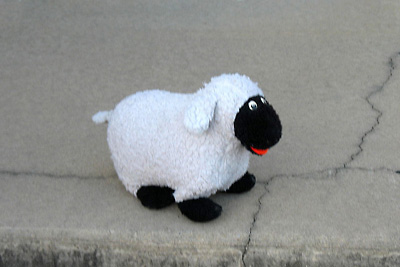 He didn't see his shadow right away. He did, however, notice the first robin of spring sitting in the hedge by our house (who says global warming is all bad?), singing his Early End To Winter song. This was a good sign, we thought, but again, only briefly. Shearson promptly ate it.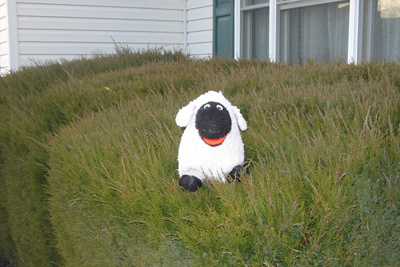 Next, the groundsheep made a beeline...er, sheepline...for the tree by our mailbox. Hoping perhaps that more avian edibles could be found in its branches, he began climbing it. Sheep can't climb trees, you say? The photographic evidence proves otherwise: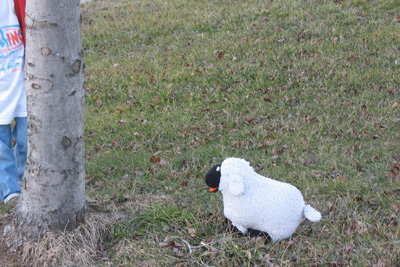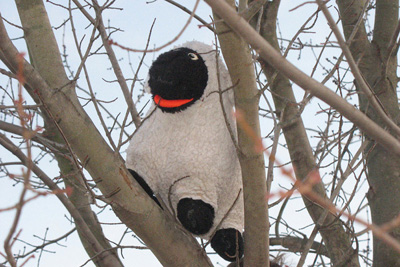 Some sort of nesting instinct took over at this point. The groundsheep established a home in the upper branches and began to bleat his own Spring song. This woke the neighbors, who called the police. The animal control people came by -- strangely, they always seem to be hanging near our house on February 2nd -- and attempted to coax him down. The usual carnage ensued. Again though, in all the excitement, we're pretty sure the groundsheep never saw his shadow, and that means an early spring!
He's still up the tree, and Scott (see below) has joined him. I have no intention of going up there after either of them, so we'll just close the book on this chapter until 2009. Enjoy the nice weather.
Cheers,
Nick, Scott, & Shearson